B) Save time and money in cleaning away scale and scum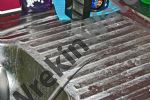 Cuts use of detergents and cleaning agents upto 70%
No need for specific remidies such as Calgon tablets for washing machines or salt for the dishwasher.
Clothes last longer washed in soft water
No scale and scum deposits on wash basins, showers and baths.
It is estimated that an Ion Exchange softener could save an average four person household over £200 per annum.
C) Detergents needed for Hard Water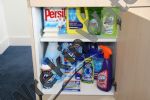 Typical cupboard for detergents needed to combat hard water
D) Detergents required for Soft Water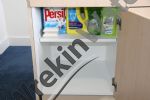 Typical cupboard of detergents with Soft Water
Save upto 70% of your current spend.
F) Soft water allows soaps to lather without scum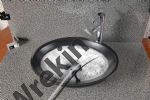 Soaps lather easily without scum
Water remains clear and clean
G) Hard Water creates scum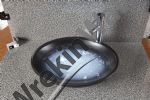 Hard water makes soaps hard to lather
More soap has to used to combat effects of scale
water becomes murky
H) Scum Left behind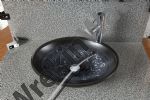 Scum remains behind.
Scum builds up making baths and sinks look dull and unattractive
More effort and agressive cleaners required to keep surfaces clean and sparkling
I) No scum left behind with soft water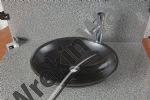 Water washes away without the scum
Surfaces remain clean longer.
Easy to clean with damp cloth only, no cleaners required